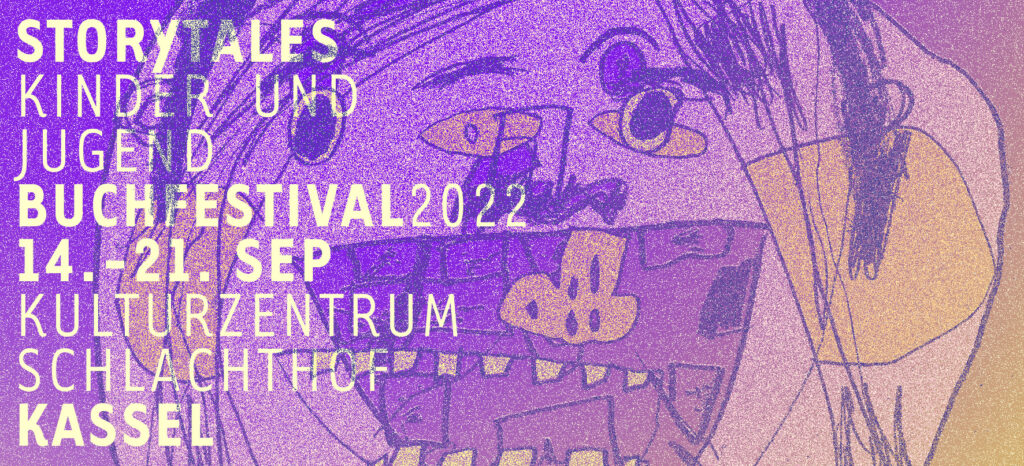 ÖFFNUNGSZEITEN 14.-21. SEP 2022
opening am Mi 14.9. 17 .
Do | Fr 13-18 .
To | So 10-18 .
Mo | Di | Me 13-18 .
RUNDGÄNGE
für Klassen u. Gruppen
Do | Fr |

Mo

|

Di

| Me >>> 9-17

UHR
A tour of the interactive exhibition takes about 1,5 hours and can be booked free of charge
ABENDPROGRAMM

für Erwachsene

from 18 .
For educators, Multiplikator*innen, Eltern und alle anderen, die sich für gute Kinder- und Jugendliteratur interessieren.
Unter dem Motto ICH DU WIR

–

Geschichten übers Miteinander sind Kinder

,

Jugendliche und Erwachsene zum Gucken

, reading, Listen, You are invited to marvel and participate

It's about togetherness- and separateness, about friendship and (Wahl)-Verwandschaften und die vielen verschiedenen Ideen von Gemeinschaft.
Euch erwarten viele ausgewählte Bücher und Comics, Lesungen und Workshops, ein Abendprogramm für interessierte Erwachsene und ein Angebot für Klassen und Gruppen.

With the storytales children- und Jugend -
buchfestival möchten wir zur Sichtbarkeit von Geschichten beitragen, that inspire and entertain as well as make you think. Stories, who move in the field of tension between multi-faceted realities of life and utopian fantasy worlds.
Children-

und Jugendbuchausstellung

next to above 150 picture books, Comics and graphic novels for children and young people 4-14 Jahren wird eine Auswahl der Wanderausstellung White Ravens der Internationalen Jugendbibliothek München mit mehrsprachigen Kinderbüchern zu sehen sein. Die Ausstellung bietet Rückzugsorte zum (cozy)reading, browse, Angucken und Austauschen. Verschiedene Story Stationen regen dazu an, to tell your own stories, to get involved, to leave something behind and take it with you.
14.09. Wed
story-Team
Everyone is cordially invited, to rejoice with us, to toast exciting days.
Ozge Efendi
The Kassel-based bli bla blub publishing house attaches particular importance to this when creating new children's books, reflect many realities of life. In this conversation, co-founder Özge Efendi would like to introduce you to the publishing house and start a conversation with you.
15.09. Thu
Earth ice, Hannah & Selina
Together with Jördis, who runs a day-care center in Wehlheiden, Selina and Hannah from the storytales team we want to go through the book exhibition with you and put together a first book case
16.09. Fri
Lucia Zamolo
reading + conversation for everyone 10 years_ illustrator Lucia Zamolo presents her new book "Every day spaghetti - how it feels to be from here but somehow not".. In it she reports, about their very personal experiences on the subject of identity, Homeland and Migration.
Tam* und Tamo*
Tâm* and Tamo* from mehr_blick invite you to a critical and empowering exchange on different children- and picture books.
17.09. Sat
Tam* und Tamo*
Tâm* and Tamo* from mehr_blick read picture books to you. It will be about friendship, Being there for each other and walking in community.
Ocean Funk
"Pupskraut & Erbsenmus" is a book with many of children's favorite recipes, that invites you to cook and exchange ideas together.
Laura Melina Berling & Hannah Rödel
A book about time, where you can't take down your animal posters yet, but wants to know about sex and all that other stuff.
Carla Heher
What are good various children's books? We want to get to the bottom of this question together with blogger Carla Heher.
18.09. Sun
Ferdinand Lutz & Dominik Merscheid
In an exciting picture-sound reading you experience the adventures of Lara, her alien neighbor Q-R-T and his pet bouncy ball.
Andrea Karimé
Andrea reads you children's poems, mini stories and treasure texts and invites you to participate, The middle child, Listen and join in. _An event organized by the Brencher bookstore.
Rita Furstenau & Lisa Natalie Arnold
Actress Lisa Natalie Arnold will tell you about the fun and exciting adventures of space postman Bob. Afterwards you can take part in the drawing workshop with publisher Rita Fürstenau, to further explore Bob's adventures.
19.09. Mon
The co-pilots e. V.
What can you do about hate online?? Efforts to learn in a way that is sensitive to discrimination often become the focus of defamation and hate speech.
Based on the classic by Astrid Lindgren, the participants explore theater with theater teacher Lidia Schwagerus- and acting improvisations opposites and similarities.
With friendly support from: